Latex PaintsOil Based PaintsWhat Type Is It?
Recycle Latex Paints and Stains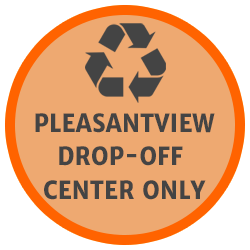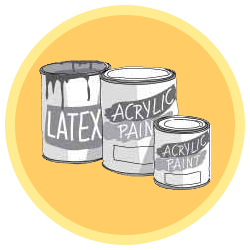 WHAT
We accept any latex paint, stain or additive in any condition for recycling. Sealed cans only, please.
WHERE
Drop it off in the Recycling Barn at the Pleasantview Road Drop-off Center, 7363 Pleasantview Road, Harbor Springs
WHEN
April 1 to November 1 annually
HOW
It's easy! No need to solidify the paint, just drop if off.
Please don't add anything to paints or stains to be recycled.
COST
These fees pay for space on a truck to haul the paint to Battle Creek, not the paint recycling process, so they are per can/bucket, regardless of the amount of paint left.
$2.00 /gallon can
$10.00 /5 gallon bucket
$0.50 /quart can
THE PRODUCT
Your paint goes into making "Everybody's Paint," a high-quality recycled paint. It is sold at Habitat for Humanity Restores, including Habitat for Humanity Restore of Harbor on Harbor-Petoskey Road (M-119).
Paint Recycling Backstory
The guy on the left in the green shirt is Jim Cosby, the paint mastermind behind Emmet County's latex paint recycling events. He and his crew turn your unwanted paint or stain into new, high-quality paint. His company is called ePaint Recycling and it's located in Battle Creek, recovering valuable resources and supporting Michigan jobs.
But that's not all! The resulting high quality paint is sold by Habitat for Humanity Restores, so they benefit too.
Check out ePaint's great Michigan-inspired colors, like "Mackinaw Green," "Petoskey Stone," and "Apple Blossom."
---
"Down-cycle" Oil-based Paints and Other Finishes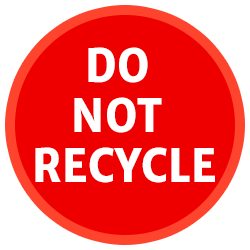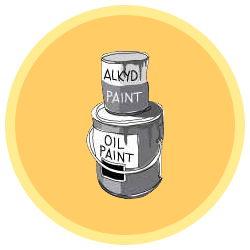 To dispose of oil-based paints and other finishes, bring them to a Household Chemical Drop-off Day. Generally, they will be used as fuel for power and cement plants with pollution control "scrubbers" to capture their non-flammable components. While not truly recycling, this "down-cycling" or "waste utilization" is better than the alternative of incinerating them without capturing their energy potential.
This includes:
Oil-based paints
Oil-based stains
Polyurethane
Wood preservative stain/paint
Linseed oil
Varnish
Shellac
---
Not sure what kind of paint it is?
Look for these clues on the can to determine the kind of paint/finish and how to recycle or dispose of it.
Clue Set 1
"Acrylic" or "latex" is used to describe it.
Clean-up instructions say to use soap and water.
Protection from freezing is recommended on the label.
Type Indicated by Set 1: Water-based "Latex" Paints | Recycle per latex paint instructions above
Clue Set 2
"Alkyd," "oil-based," "epoxy," "combustible" or "flammable" are used describe it.
Clean-up instructions say to use special solvents such as paint thinner, turpentine or mineral spirits.
It may be called polyurethane, deck preservative, linseed oil, varnish or shellac.
Type Indicated by Set 2: Oil-based Paints and Other Finishes | "Down-cycle" per oil-based paint via the Household Chemical Drop-off Program
Clue Set 3
The can feels heavier than you would expect it to.
Pictures on the can look like they are from the 1980s or earlier.
"Wood preservative" is used to describe it.
"Mildew resistant" or "kills mildew" is used to describe it.
May be either water or oil-based.
Type Indicated by Set 3: Paints Containing Lead or Pesticides | "Down-cycle" per oil-based paint via the Household Chemical Drop-off Program